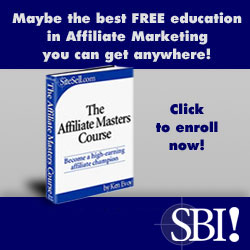 Site Build It is based in Canada and is a Canadian company. Ken Evoy is the CEO and President of this company. Site Build It has created a unique concept in web hosting which has prompted me to do this Site Build It Review. I have been hosting with Site Build It from January 2006, hence I consider myself highly suitable to do this objective review.
If you are creating a website either for pleasure or for profit, or working and earning a living through the internet like Work-At-Home-Mom (WAHM's), or you are an Internet Marketer, or you are planning to start any of these; then you have to utilise a Web Hosting company to upload and host your website.
Above all, whether you are a novice or an expert, if you simply want to concentrate in creating your content and do not wish to be bothered with the technical nitty-gritties of hosting and popularizing your website, then this Web Hosting service is meant for you.
Normally, any web hosting company will give certain fixed space for hosting your website, bandwidth, a cPanel consisting of various menus to control the different operations like managing folders, sub-folders and sub-domains, upload and download of files through FTP, a few reports, email facility, domain parking facility, etc.
These web hosts will be of no use to you when you have to conceptualize, build, maintain, popularize, and monetize your websites. That is entirely left to you and to your ingenuity and knowledge.
Site Build It Web Hosting company, SiteSell.com has popularised the web hosting product called Site Build It!. With Site Build It!, you can create robust static websites.
Updated in Dec-2009:
Now, with the introduction of
SBI 2.0
, you can create great dynamic websites too.
They have based their business model on a process called C -> T -> P -> M. It stands for CONTENT -> TRAFFIC -> PResell -> MONETIZE.
Given below are some of the unique features included in Site Build It!:
Keyword brainstorming and Master Keyword List
Step-by-Step Action Guide. It includes both written as well as Audio Guide.
Domain Registration
Template or block based web site development for novices or people who do not want to use HTML.
If you are familiar, you can also develop your site using HTML or a program like Dreamweaver or Frontpage.
Search Engine Optimization
Value Exchange for link exchanging
Automatic Search Engine submissions and resubmissions
Autoresponders
Opt-in mailing lists
RSS Feed and Blogs that you can integrate into your web pages
Automatic Form Building Tool
Powerful reporting and traffic statistics features
An exceptional Support and a very friendly and helpful Forum
It is an impressive features list. We have tested this company's product and it really works. In fact, they have a list of successful top ranking websites all developed using Site Build It!
Apart from the above, Site Build It! is a goldmine for affiliate marketers. They are one among the top two affiliate programs which has been consistently converting for me. SBI also has a two tier commission system whereby you get commission through your downlines as well. Affiliate marketers will do well to sign up for SBI's 5 Pillar Affiliate Program.

I have talked about all the positive aspects of Site Build It. I will not be doing an objective review if I do not mention here the limitations of SBI.
SBI is a controlled environment. What I mean is that you cannot upload any file that you wish. It does not have a conventional FTP environment but a controlled FTP environment. So, your normal FTP program will not work with SBI. You cannot upload PHP files. You do not have access to files and folders like .htaccess, cgi-bin, etc. Apart from the html, shtml and other files that are placed in the root folder, there are three other sub-folders which are designated for specific type of files. For example, image, video, javascript, text, etc will go into their designated sub-folders.
Why SBI utilizes this controlled environment? When you sign up for SBI, the system not only handles web hosting but you start with online brainstorming and do the entire web publishing cycle online. Their system also takes care of search engine optimization of your pages as well as submission and resubmissions to the various search engines without incurring their wrath.
The reason why search engines like Google will never penalize sites created using Site Build It! is because of their controlled environment.
Accuracy Disclosure: V K Rajagopalan is a regular customer and user of this product and hence, has directly tested this product. However, the above content is based solely on the honest opinion of the publisher's experience with the product, and does not represent or imply an "average" result for others.
The content on this page is not to be considered as Professional Advice. For all purposes, this content is to be treated as for "Entertainment Only".